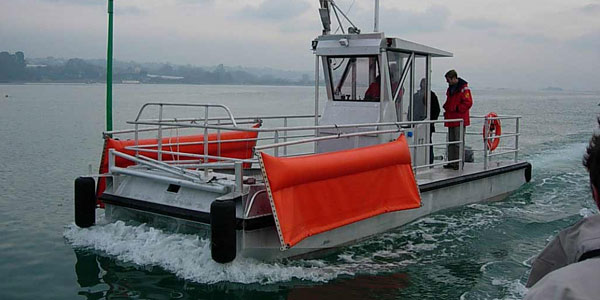 Belief
Evidence has shown that, when there is marine pollution, it is important to treat pollutants and spills upstream as early as possible, before they damage the coastline.
Despite this, recent studies have found that: "Despite the significant means employed, very few – if any – hydrocarbons are recovered at sea."
This inefficiency severely impacts the environment, making clean-up operations difficult and causing serious damage to the coastline.
Our task
This is why, EFINOR SEA CLEANER has focused its energies on researching, developing, building and marketing its patented, versatile vessels. These vessels are designed to recover hydrocarbons and solid floating waste at sea.
Research and design

The company's facilities include an engineering design office and a shipyard that specializes in aluminum and metal construction.
The shipyard and design office are first and foremost a research and development laboratory, dedicated to manufacture and to test effective ways of fighting marine pollution.
Innovation
EFINOR SEA CLEANER's innovative technology makes it possible to recover all types of floating and liquid waste (hydrocarbons).
Solutions
Our solutions cover ports, coastlines, lakes and rivers, the oil industry, and ocean-going and polar operations.
All of our vessels, ranging from 7 to 46 metres in length, are equipped with our patented technology. Each vessel is adapted to the needs of a particular environment and a specific type of operation.