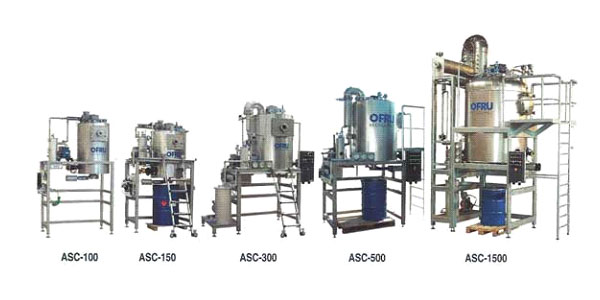 Type of industries
Paint
Printing
Chemical
Laboratories
Automotive
Mecanical
Big industries…
The distillation units of the German constructor OFRU allow to easily recover polluted solvent with very low energy.
The return on investment is very quick and allow a lowering of the necessary purchase of solvent and assuring a constant quality of solvent.
The successful medium range of OFRU proposes a heating with integrated steam generator under vacuum.
The machines are built in stainless steel, to resist to aggressive solvents.
The range of distillation units of OFRU is actually the biggest and the most modern in the world.
We also have a smaller range and a much bigger range for important production.
OFRU is a German manufactory, near Frankfurt, with a climbing impact in the world.
A list of some of them will better illustrate their impact on the word's market
The priority that this German factory choosed to build their machines is for sure the reason of their growing success.
Safety first

Product benefits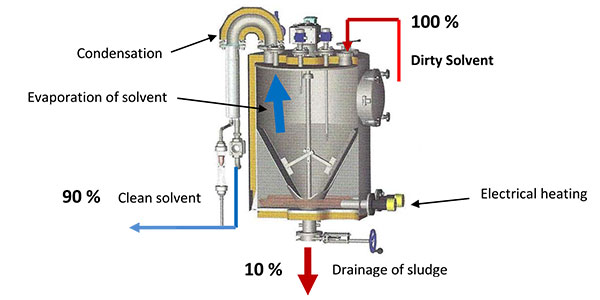 Product-affected parts in stainless steel : this enables to resist to the most aggressive solvents
Automatic and continuous feeding with dirty solvents
Filling level is kept constant. Plant distills always further, no batch operation
Conical distillation vessel in stainless steel AISI 304 with lathe and plain surface: Easy and complete drainage of vessel content by natural gravity and scraper support
Perfect scraper system: Blades keep free the evaporator walls from settlements, no re-adjustment necessary, guarantee an optimal and real cleaning effect
Water cooling: Optimal condensation of solvent vapors, even at high ambient temperature
Electric panel with SIEMENS digital control inside
Automatic operation
Auto-stop: When dirty solvent drum is empty, when over temperature, when no thermal heating media existent, when no cooling water flow
Constructed according to latest EU directives: High levels of operational safety
Integrated modern steam heater in place of usual diathermic oil heating
Solvent is heated up faster than with conventional thermal oil heating systems
No oil change necessary = saves money and maintenance
No incrustation of heating elements any more, always constant heating power
No oil sludge in the machine
Closed system: No corrosion of vessel because of air moisture