INDUSTRIAL WASHING MACHINES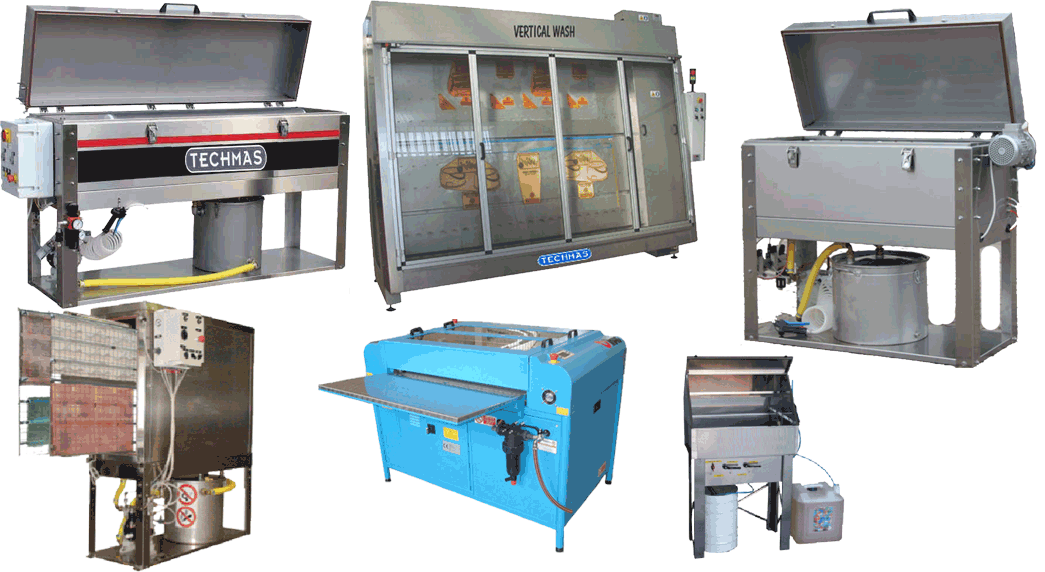 The machines presented here are the result of more than 25 years of experience, and have been sold with a great succes all over the world.
Most of those machines are made to clean parts and accessories of the printing industry (plates, Anilox, blades, doctor blades, and so on…).
Therefore, water and detergent, or flammable or not flammable solvent will be used, as the machine are mostly equipped with pneumatic motors and are explosion free.
The machines are built in Stainless Steel type AISI 304.
Basic solution for Washing Whole: SE LC Manual washing for plates and parts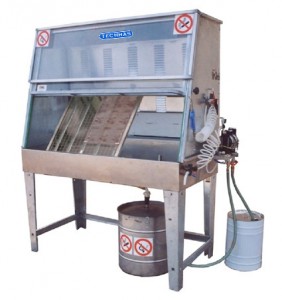 Dimensions: from 1500 x 1500mm to 2700 x 1600 mm
Liquids in recirculation, are filtered both during filling & before pneumatic double PTFE diaphragm pump.
Rinsing happen with clean or regenerated solvent (hanging on tap position) and will be added to washing solvent.
A predisposition for an exhaust attack is foreseen on the machine, as calibrated interspace
WASHING MACHINE FOR ALL COMPONENTS OF FLEXO & ROTO PRESSES:
FL Allclean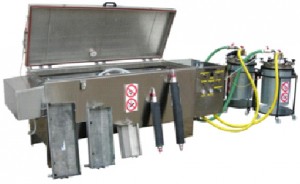 Usefull width: from 1600 to 2600 x450 x 450 mm. Non standard on request
Fully pneumatic, fixed washing bars, removable basket.
During washing, the basket is moving longitudinally, giving a perfect washing.
Rinsing cycle available in option
FL Evolution: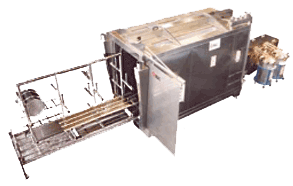 Usefull width: 1600 to 2600mm x 1000 x 1300 mm (or 1600mm)
Speed (average): washing in 20'.
Fully pneumatic, mobile washing bars, high cleaning power, special nozzle with rotating head.
Removable carrying trolley
Extractible carriage, for ink trays, doctor blades, cylinders, tanks etc.. Extra shuttles in option.
Separate pump box: you can, if needed, place pumps and tanks out of the workplace.
PLATES WASHING:

Plates horizontal washing: the LC ELECTRA EVOLUTION: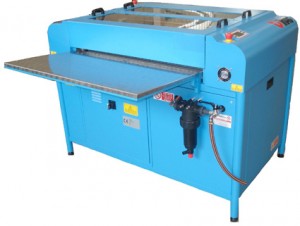 Plates dimension: machine range from 440 to 1460 mm
The washing of photopolymer plates are now proposed with very fast machines (1 linear meter/2 minutes) using rotary brushes and conventional brush with alternate horizontal movement. Driving rolls accept without problem plates of different thickness and adapt automatically the pressure.
Vertical plates washing: SR LC Mini: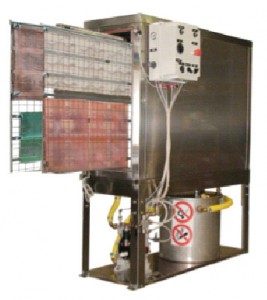 Used with water & detergent or with flammable solvent. Plates dimension: 1000 x 1000 mm(2 sides)
Placed with magnets on specific and easy positioners and brought to the washing places, nozzles spray without stressing the plates. After blowing the plates, the material is ready to be reused
Vertical plates washing: SR LC: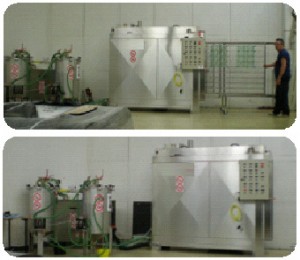 Plates dimension: up to 2000 x 1500 mm(2 sides). More on demand
Also specific easy to use positioners. The presence of an operator is not required, as everything happens automatically.
A range of shuttles are supplied with the machine, allowing ideal positioning and washing.
FOR CORRUGATED:
Vertical plates washing: Vertical Wash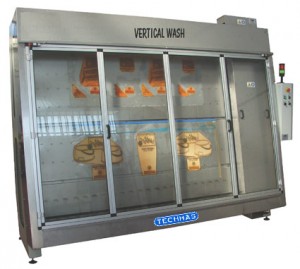 Dimension: 2500 x 1700 mm (other dimensions on demand)
Translating washing carriage: with washing bars and calibrated nozzles. Helical type brush with special bristles
PLC with 3 different type of washing: operator just push on 1 button. Washing, rinsing, blowing.
Rinsing happens with tap water that goes back to the 100 liter washing tank
PRINTING PRESSES PARTS CLEANING:
Washing of Rotogravure cylinders, sleeves, mounted plates, Anilox:
Rollclean Eco: washing and blowing cycle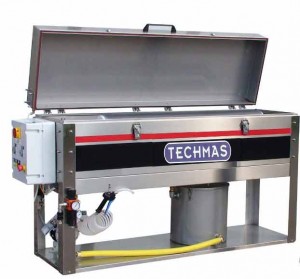 Dimensions of sleeves: 1200 x 250 up to 2100 x 250 mm
Pneumatic-Electrical supply to allow use of flammable and not flammable solvents or water with detergent.
Filter on washing tank to grant a longer life of solvent.
Special support and new blade system allow sleeve to be kept clean during rotation.
Blowing completely remove dirt and impurities.
Ink trays and chambered Doctor Blades wash:
Rotojet: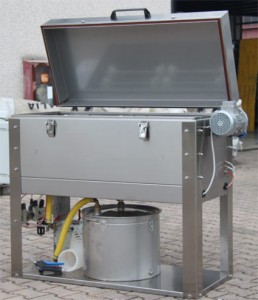 Useful length: 1000 mm or 1600 mm (other on request)
Entirely in Stainless steel type Aisi304(as all our machines), Rotary head nozzle, powerful pneumatic pomp.
Blowing to complete the removal of impurities.
Rinsing: optional but useful to get perfect work, with dedicated tank containing cleaning liquid

Ultrasonic Anilox Washing:
The ULTRAWASH BASIC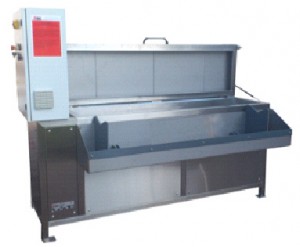 Dimensions (width): from 1300 to 3300 mm. Other on request
The cheapest and most efficient way to clean Anilox: washing and manual Rinsing
Multifrequency work: gentle deep cleaning avoiding to ruin the shoulders of the cells. Use of cavitation effect to suck the dirt
Rinsing: a dedicated tank with adjustable support allow a manual rinsing
In option, automatic filtration system of washing bath.
Average washing time: 20'. Max temperature: 50°C
The ULTRAWASH: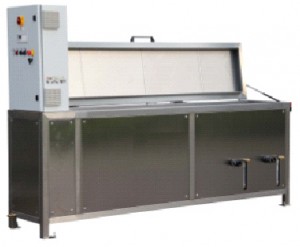 Dimensions (width): from 1300 to 3300 mm. Other on request
Tank doesn't use typical water bath with hot stagnant detergent, but is totally empty. A closed heated tank is below, avoiding odors. Water is microfiltrated after use.
Optional blowing system proposed after rinsing cycle.
WASHING ANILOX INLINE:
BIKWASH INLINE: with Backing Soda, directly on the machine.

Max width of Anilox: 1700 and 2700 mm . Other on request
Maximum adjustability of the head: easy installation of translating bar, can be placed in any position
Intake system: 3 different power selections, increasing vacuum power if needed.
Filtration of bicarbonate pack before use
NARROW WEB PRINTING
Parts washer
Easywash: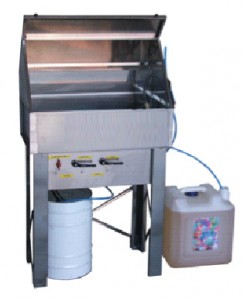 Manual washer for narrow web parts:
Width: from 800 to 1500 mm, more on demand
Equipped with magnetic positioners to ease work for plates. Special positioner for Anilox & rubber rollers
Blowing: a pistol is delivered to assure blowing and drying operations
Washing & Rinsing: 2 drawing pipes: one for the classical washing process, a second to collect clean product for final rinsing.
Use of water & detergent, or non-flammable solvent, as the supply is pneumatic.

Rollclean Mini:
Maxi useful length: 1000 mm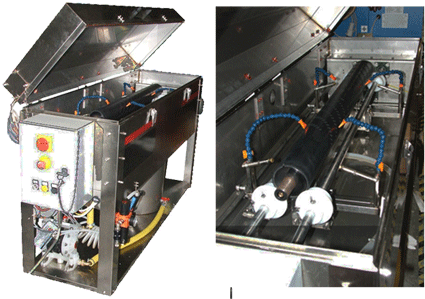 Small in size, has easy positioners to fix parts, fitted with brush supports, can load up to 4 cylinders in the upper part ink trays, blades and other parts in the lower parts of the printing machine.
The washing tank is fitted with a filter to collect impurities, assuring a longer life to the cleaning product.
Blowing assure an immediate reuse when leaving the machine.
Rinsing in option, with dedicated tank.
Always water and detergent or non-flammable solvents.
Anilox washing for webmini:
Ultrawash mini: an ultrasonic washing machine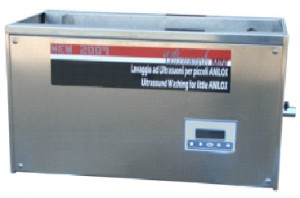 Max width Anilox: 350 – 550 & 850 mm. Non standard dimensions on request
Cleaning in 15' at 50°C maximum
Heated washing water tank(50°Cmax), avoiding odors and risks for operator. Removable cover
Quickly and easy adjustable positioners